Description
Creates one (1) 300 lb. block of clear ice using a single chamber of water.
Dimensions
Uncrated Size:
48″ long x 30.50″ wide x 39″ high (includes casters)
Uncrated Weight:
Approximately 310 lbs.
Crated Size: 54" long x 40″ wide x 46″ high
Crated Weight: Approximately 350 lbs.
Construction
-Aluminum interior
-White galvanized exterior
Electrical
-Standard electrical is 115 Volts/1 Phase/60 Hz
-Amp draw is 30 amps
-50 hertz is an available option with an up-charge
-UL approved electrical components
Options
Please contact us for more information on the 200-volt version.
Pair with an Ice-Max Water Chiller to significantly reduce freezing times.
Use our Ice-Max Ice Block Compartments to create many blocks of ice for various purposes, such as snow cone machines.
Products should be installed in compliance with NEC (National Electric Code), OSHA, and other regulatory agencies. All specifications are subject to change without notice.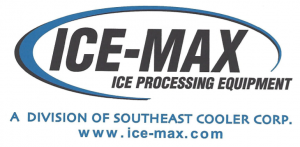 ICE-MAX
1520 Westfork Drive Lithia Springs, Georgia 30122
800-241-9778