Ice Block Processing Cart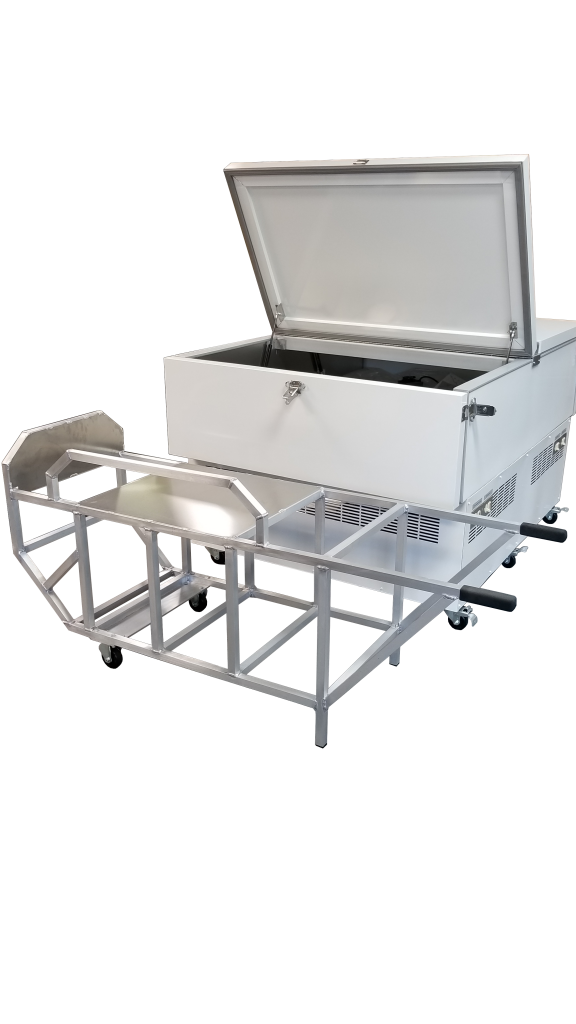 Description
The Ice Block Processing Cart was designed and built to help customers easily transport fresh-made ice blocks. The cart is designed to be able to carry the 300 lb. blocks of ice created by the
Ice Max Ice Block Makers
.
Dimensions
22″ deep x 68″ wide x 33″ high
Construction
Constructed with 1″ x 1″ x 0.125″ aluminum tubing.
Two robust casters, each rated for 250 lbs., provide stability and support.
A 23″ platform height allows clear ice blocks from the IBM300 or IBM600 to slide easily into position.
Strategically positioned fulcrum tip point allows ice blocks to be oriented vertically.
One 2″ wide nylon strap is used to secure the block while tipping to the upright position.
Products should be installed in compliance with NEC (National Electric Code), OSHA, and other regulatory agencies. All specifications are subject to change without notice.

ICE MAX
1520 Westfork Drive Lithia Springs, Georgia 30122
800-241-9778